Here's to my first ever Fashionable Friday! Keep in mind these "special" theme posts may not be a weekly thing, as I may eventually run out of things to post, but they will be fun in the meantime. As you may or may not remember from yesterday's post announcing the creation of Fashionable Fridays, today is all about what current trends and styles are catching my eye and my taste at the moment. Today I'm going all random on you. Well, kind of. We're going to take a look at my "Cali Cool" relaxed look that I put together to wear to a birthday party tonight, and we're going to look at trends I am going to try in the fall based on what I have recently purchased! Get excited, I know you're going to love it! Here we gooooooooo!
"Cali Cool"

Ingredients:
One pair distressed denim shorts
One pair studded gladiators
One Royal Purple "Beater" Tank
One Purple Plaid Shirt
One White Flower Clip
One Pair White Flower Earrings


You can see that I've started with the shorts (my favorite pair). I bought them at Aeropostale, and they are a great, appropriate length for someone who likes to dress conservatively, like me.
And here you can see that I have paired a Miley Cyrus Max Azria "beater" tank with an American Eagle "Exploded Gingham" Button up shirt. I found that the colors matched, and kept the look fun, fresh, yet girly at the same time.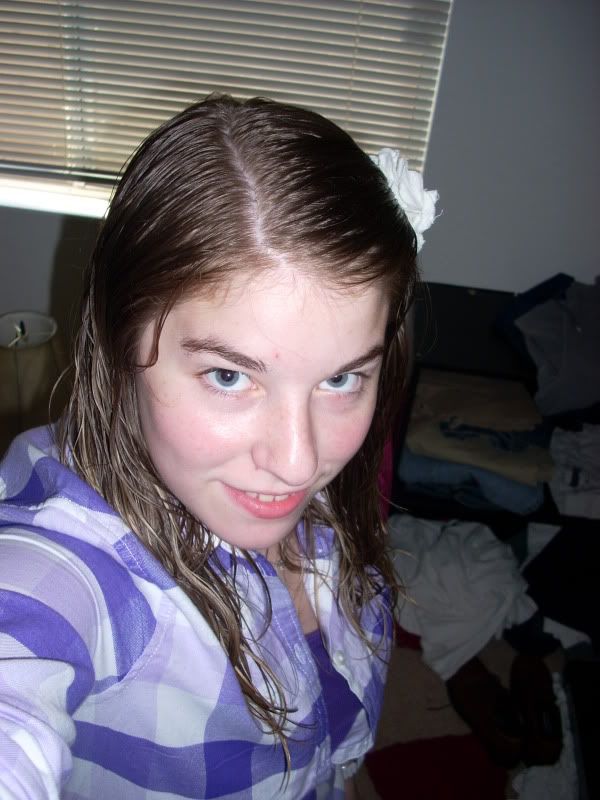 To keep up with the girly feel, I added a white cotton flower clip I bought at Old Navy a while ago. I had just gotten home from work and decided I didn't want my hair up, so instead of it just hanging there, I pulled a bit up, and added the clip!
Here you can see the clip a little better, but you can also see the tiny white flower studs I have in my first holes! They are adorable, and I will share with you where I bought them a bit later!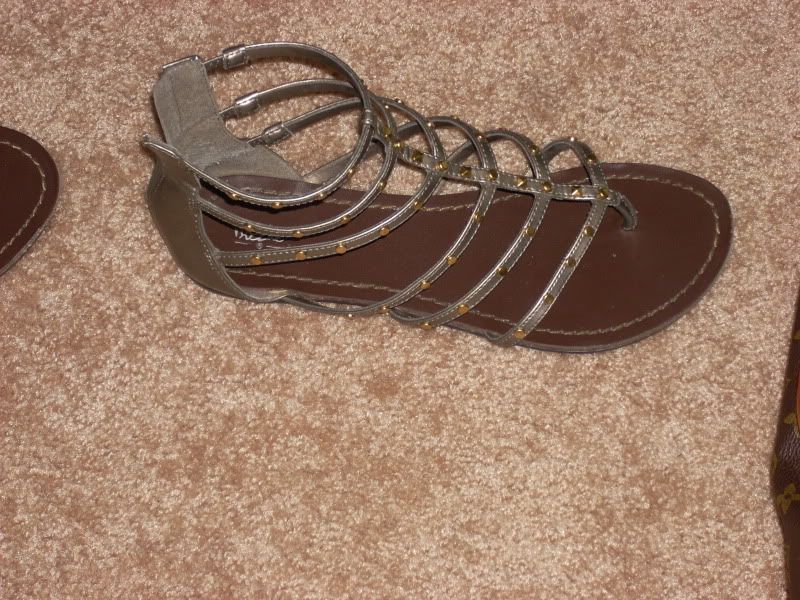 Here are the last pieces to the puzzle. Studded gladiator-like sandals! I love these, I bought them for about $23 at Target back in April, and I was so mad at myself because I was pretty convinced that I would never wear them, but it turns out that I wear them ALL the time! GREAT Investment! And everyone always tells me that they look like I paid hundreds for them! SCORE! =]
Here is the studded detail a little closer!
And here's the finished product!
And one final shot.
Now, onto this weeks trends that I am looking forward to trying in the fall!
I have been in love with leather jackets for about 3 years now. And I have been looking for one (real leather or fake, I didn't care!) in the $30 price range since then. Yesterday I FINALLY found one! Check out my $20 "pleather" jacket that I got from Forever 21 yesterday!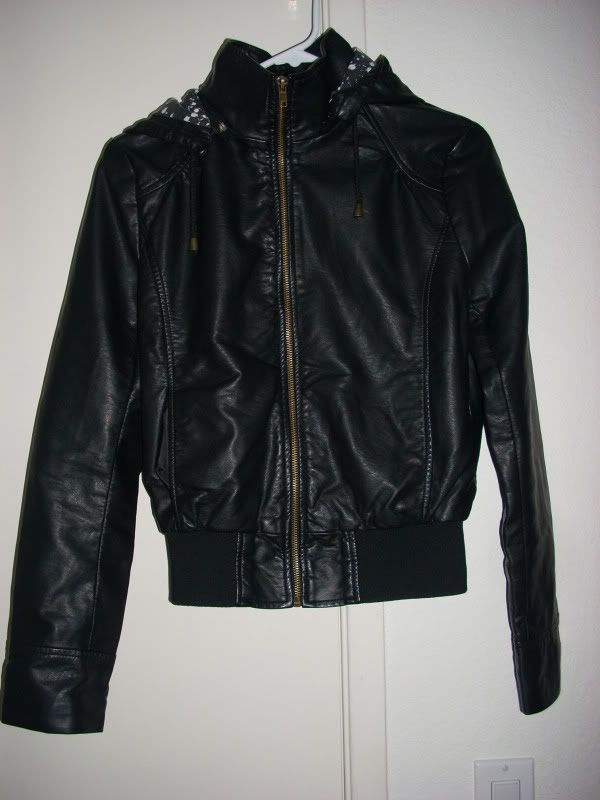 LOVE IT! It was PERFECT and I didn't even know it! Also, even though it's not real leather, it sure looks and feels like it! No jokes.

Next piece that I'm currently loving is the Vans "Era" sneaker. They are super super popular here in SoCal, and I got a custom pair for Christmas 2009. They are my FAVES(next to my Converse All Stars and my Nike Dunks of course...)If anyone knows me, they know that I cannot walk in heels for the life of me and I don't find flats to be very comfortable, ergo, my sneaker obsession! Here's my pair of custom Vans!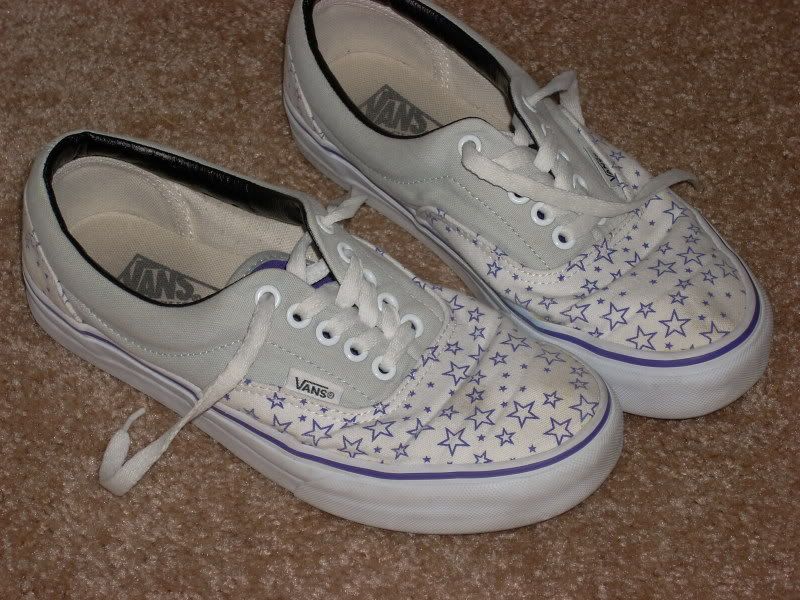 The only regret I have is that I didn't get them in a darker color, because they are really dirty, as you can tell...

The next thing is my grey skinny jeans! They add to the girliness of my closet, and they go with the new pastel-type colors that are in this season! I bought them for less than $20 at JC Penney's!
Adding to the girly list (which as you might be able to tell is my "theme" for today... FLOWERS! Clips, earrings EVERYTHING!
These clips I bought at Forever 21 for something like $2.50, I love them. I'm not much of one for pearls, but I thought they added a nice, sweet, girly touch to an outfit. I've been wearing them to work lately to make my uniform less gross.

Here are the earrings I bought with the white ones from the Cali Cool outfit, as you can see they came in 3 different colors and sizes. Each color and size came with the rosettes, a set of colored faux pearls, and a set of colored gemstones! Only $4.50. Love the deals I find at Forever 21!

My next item is my mirrored Wayfarer Sunglasses that I bought for $12.50 at Target in late March.
I love them. They are my go-to shades for the strong SoCal sun! And so cute. The picture doesn't show the mirrored aspect because of the flash, but you can indeed see a perfect reflection in them!

Next is a top that I got at Marshalls for $12.99.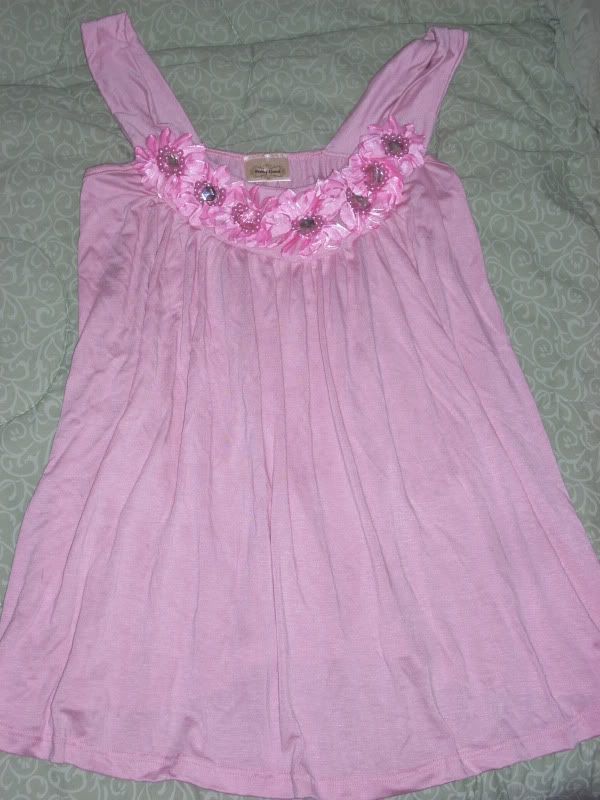 I love the girly pastel color, and the detail at the top. I love that I can wear it both to class and out at night. It has the perfect balance of dressy, casual, chic, and girly.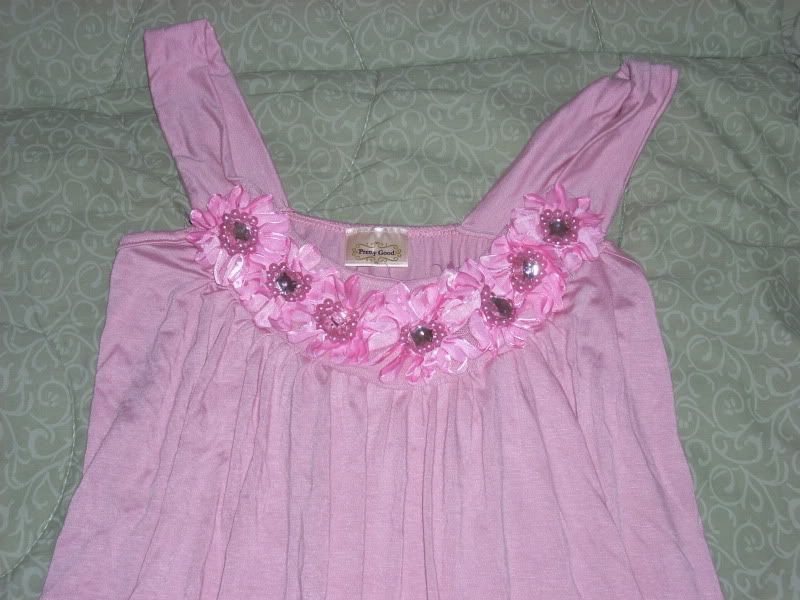 As you can see in this close up, the detail at the top is made of ribbon, gemstones, and faux pink pearls. I love it. Of course, this means that I can't wash it normally, but I don't mind. I find it's worth it.

I can't wait to pair these two together....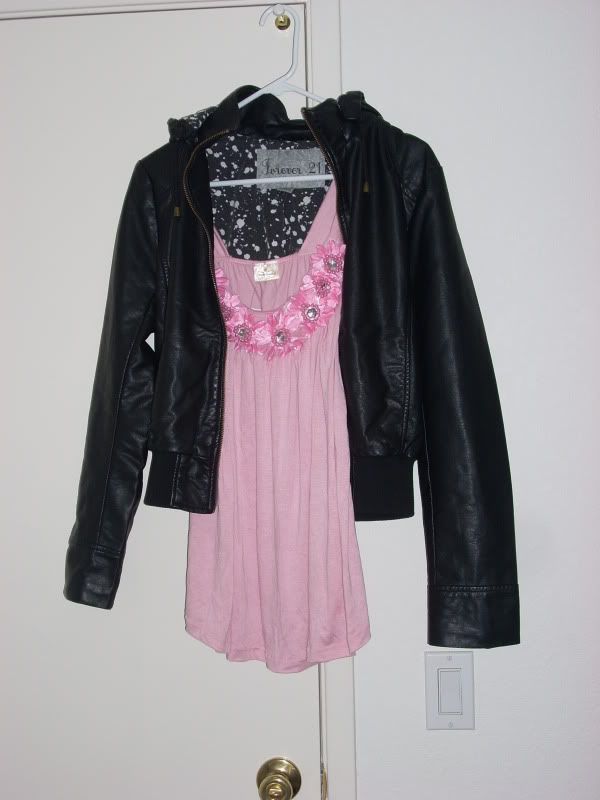 The reason I'm interested in pairing them is because I'm really loving the girly with an edgy vibe trend that is hot right now. Can't wait to see if I can pull it off!
Last, but most certainly NOT least is lace. It's no longer simply something for your grandma...
Unfortunately I have not gotten anything with lace on it yet, even though I was very close yesterday. Therefore I must resort to this adorable tag from Forever 21 when I bought my jacket. And I have to tell the story about "the one that got away..." It was a grey tank, lace racerback straps at Hollister, and it was only $6. The problem was that the line was about 30 minutes long. I was not willing to stand in line for that long... soooo it got away from me.
Anyway! That was Fashionable Friday! It was long winded, but if you remember my earlier posts, you'll know that that's me! So enjoy! See you tommorrow!