you hate living out of a suitcase. 'Cause I do. And being that I don't really have a permanent residence (although legally it's here in New England at my parent's home) I don't have a permanent space for my things when I go home or to my "second home" in San Diego. Which, you know is totally fine except for when, I stay for a month or more. Like right now.
So I'm going to share with you how I live when I'm at home and have to live out of a suitcase, for a month. I'm also going to give you some tips on how to pack for long breaks and how to store things so that you don't have to live out of a suitcase if you lack room like I do.
Something you should know right off the bat is that I don't have a ton of clothes anyway, so pretty much everything I own is at school. Bringing home clothes for a month is tricky, so I try to stick to minimal basics with one dressy/fashionable/ fancy outfit. Also, as it is winter and pretty chilly I brought about 4-5 scarves because they can totally change an outfit, they're small, easy to pack, and are weather appropriate! =)
To start I'm going to show you my suitcase and the size it is so you can have a frame of reference for how big of a suitcase I travel home with.
So you can see that it's not a huge suitcase but it is large. It has those 360 wheels on the bottom though so it's easy to roll without having to tip it over! =)
My problem is that I like to bring a variety of shoes with me everywhere I go. =/ I'm a shoe addict, it's what I do, but I digress. So how would one store all of them neatly when they are living in a space that is small and not entirely theirs? Well, good question, I'm glad I asked! So I brought home snow boots (thinking I would be using them, which I didn't, but again, I digress.) Uggs, flats, and a pair of sneakers and then of course for Christmas I ended up with more shoes. But I decided to store my shoes like this:
It was easy to store them under my sister's bed (which I am currently sharing with her) and get them out of the way so that I had more room for clothes in other places.
It was about a week into my stay here at home that I got sick of having to rummage in a disorganized suitcase every morning and evening for clothes, hair products, deodorant, etc, so I decided to clean the closet in my sister's room that holds all my stuff. I ended up boxing up or throwing out the majority of it and cleaned out my dresser that was in there. Thankfully there were quite a few empty drawers in there. Also, once clean, there was plenty of space to hang things, so I hung!
Like so. But Abby, what do you do with your jewelry? Well again, I'm glad I asked! =P I usually would just leave it in my travel case, but since I'm going to be on break for a month, I found a unique way to store it!
(Yes, those are year books =) ) I hung it on the top shelf with a tack! =)
The top of the dresser ended up being slightly messy, but I stored my earrings, hair stuff, and other miscellaneous things there!
I organized the drawers by category, top available was underwear/pjs/ socks, second was shirts/sweaters/tanks, and bottom was pants. Here's what one drawer (and yes, they're pretty small) ended up looking like!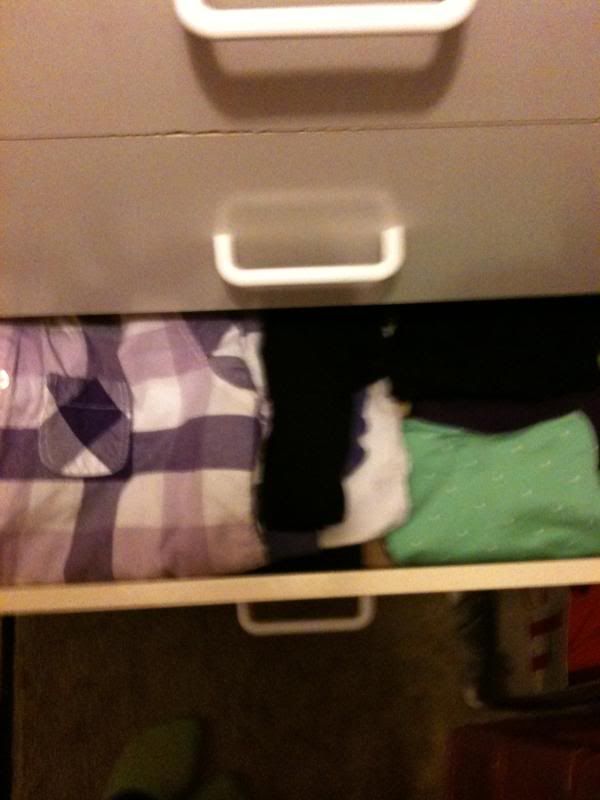 Then I used all my creativity to hang the rest of my things in the empty space. I hung things as follows.
I hung my backpack from a hanger so that it would be out of the way of my sister's things.
Same with my handbag. This allowed me to have a safe place to store it where nobody would get into it and I wouldn't lose it!
I hung my jacket, sweatshirt (s), and 2 flyaways on their own hangers to keep them clean and out of people's way, and lastly... Whatever did I do with my scarves?
I put the scarves on one large hanger and hung that up. It keeps them all clean and doesn't take up much space!
So although I'm no longer "living out of a suitcase" I am living with limited clothing space, and I feel as though I'm still living out of a suitcase regardless. If you're staying somewhere with limited to no space of your own for any length of time, I suggest talking to your hosts/ hostess (es) to determine if there are any mechanisms like this that you can use. I did a very similar thing when I lived in California, and it helped out tremendously.
If you absolutely have to live out of your suitcase for a long period of time (like I did this summer) I would recommend rolling your clothes into small bundles (with or without rubber bands around them, your call) and organizing your suitcase very carefully with pieces of clothing that are both versatile and neutral with a few key "centerpieces." This means that you bring jeans, black, white, brown, and/or grey tops with brightly colored scarves or jewelry to make your outfits less boring. Then, if you have to live out of the suitcase, unroll everything. I am not joking. EVERYTHING. Fold it neatly and stack it according to type of clothing. I did separate piles this summer for dressy/ non-layering tanks, camis, beaters, short sleeves, capris, and shorts and placed it all back in the suitcase in these separated piles. Then I hung my dresses & skirts in the closet in my brother's guest room. I used my carry-on luggage to store underwear, socks, and pjs etc. And everything else went in the bathroom & on the desk in the guest room. I found that this worked well.
I hope you all enjoyed this little (okay so not little, more like HUGE, colossally long) "how-to"/"tips"/ "411" or whatever it was to you. Try this out if you want! It totally works! =)
Peace, ♥ , and happiness! =)