Here we are! It's almost Christmas! I'm home with my family, and could not be happier. Well... I guess that's kind of a lie, but we'll get to that in a minute.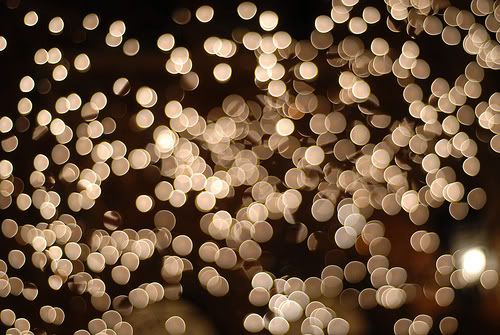 Regardless, it's Christmastime and I'm pumped! I won't lie, I love giving at Christmas, but I love receiving as well, and I heard from a good source that I'm going to have a pretty stellar Christmas! On that note, I do plan on doing another Christmas "haul" this year as it got lots of positive feedback last year! And I love video blogging but I feel that without a specific topic the videos I record often lack focus and I obviously don't end up uploading them.
My oldest brother J is on his way home tonight, he should be arriving in roughly an hour and a half! He's the only one coming home for the holiday, what with B & A not being able to get leave due to exciting news I'll share soon, JM & N spending the holidays with her family in Los Angeles, and E not being allowed leave at this particular moment either.
My dad had a new idea for our tree this year, [I didn't get to decorate with the family because they didn't want to wait until I got home three days ago, and who can blame them?] by decorating it all with red and gold balls. Normally we have a plethora of random ornaments from Tinkerbell [can you guess who picked that one out?] to a Holy Bible. But over the years, our tree has begun to look cluttered. So this is the new idea, decorate with two colors of ball ornaments. Like so: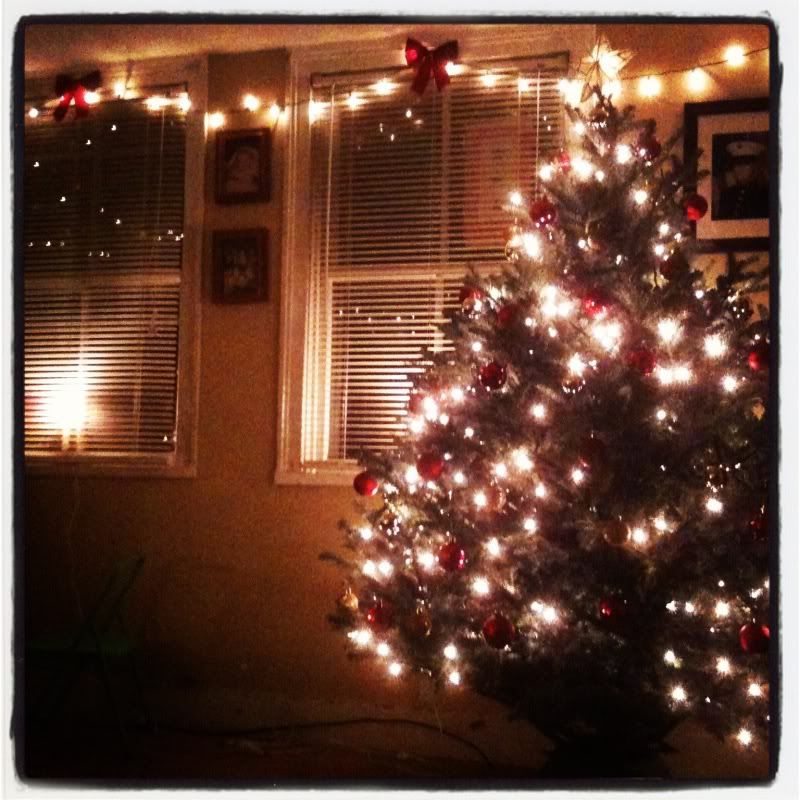 And then tomorrow morning, on Christmas Eve, we will enjoy homemade cinnamon rolls, hot cocoa, and we will each hand select one ornament we love to add to our "department store tree" as my 16 year old brother N calls it.
I love spending Christmas at home, there's nothing like being able to see the mountains and enjoy the cold weather and snow, which we got today [although it will melt by tomorrow because temperatures have been in the 40s all week.] But I do miss the city already. I ache to spend Christmas in the city and experience it! The lights outside are always so pretty before Christmas, and I can't wait to really start my own traditions when I start really living on my own. Take a peek at Christopher Columbus Park in the North End. Gorgeous.
Now onto the less exciting and happy part of my week... sciatica. It would seem that I now have this condition. At least that's what my mother and I have used the internet to diagnose this back problem that started on Tuesday. I think it's either that, or a pinched nerve. Tuesday I met my mom to come back home from being at my grandparents' house for the weekend, and as I leaned to touch my suitcase, something happened in my back that was extremely painful. We can only assume that it was a muscle spasm in my lower back. Tuesday was rough, Wednesday was better, and yesterday I was barely in pain. That is, until I went to Wal-Mart with my mom to finish running some food shopping errands and sneezed. The sneeze caused me to bend funny and sent my back and left leg into a spasm episode. Today has been filled with more spasms and pain, lots of Tylenol-taking, heating, and napping. This is really hurting me, obviously physically, but mentally as well.
I have been craving a run since I left school. It's been more than a week since I last ran, and it's awful. Even today on the way back from getting my last Christmas present to give, I was mapping routes in my head, wondering the mileage, thinking about the gear I would need to brave the snow, envisioning the high I would get as I closed in on my last mile. Dreaming about the following shower and relaxation that would follow. Thinking about how much I was wanting to run [and still am wanting to] was driving me nuts. I was literally on the verge of tears. I've never wanted to do something that I could normally do so badly, and not be able to do it. And here's the worst part: my dad says that even after my back has healed [fingers crossed that happens super super soon!] I should still give my back another week to be safe before I start running again. That means that even if my back was better tomorrow, or on Christmas, it would be 2012 before I could run again! :( I'm so upset about it, I've never had back problems, other than pain from poor sleeping habits, before and now it's ruining something I absolutely love to do! :(
But other than that, this break has been good to me. I want to keep this short, so I'll leave you here, but I'll be sure to write again soon! I have so much more to write! {all images found on Tumblr, or taken by me}
Peace, ♥, and happiness! :)